Meet the Residents
Like any small town, Black Harbour is home to a diverse group of people. The story revolves around the families of Frances Hubbard's two children, Len and Katherine. Their families, the Hubbards and the Haskells, along with the Islers form the backbone of the show. Branching out from here are the secondary characters who create the small town atmosphere. In the early shows we met Huey and Andy, Aggie, Buddy, Marge, and even some puke-faced paper pushers. Later on there is Walter Veinot, Evie, Stan Landry, and many others. Come on in, take your shoes off, and visit for a spell. You may not want to return to the big city.

The Haskells
Nick Haskell is the "ad-lib kinda guy" played by Geraint Wyn Davies. His marriage is in trouble, his career is at a low point, and he tends to drink too much. He came to Black Harbour because his wife's mother was ill and when the idea of buying the Hubbard boatyard was first mentioned, he resisted.

It would mean that they all would give up the way of life that they had come to know. He is very much a daddy and he was concerned for the happiness of his children if they were to move from the "hustle and bustle" of LA to the "life in the slow lane" of Black Harbour. After thinking it over, he decided that maybe they could start over here.
Small town life is played by different rules than life in the big city. Situations would arise when Nick questioned his ability to respond correctly or to protect his family from danger. But, all in all, he seemed to be managing quite well (still getting strange looks from the locals sometimes, though).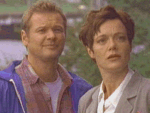 Katherine Hubbard (Kit) grew up in Black Harbour but, never really felt that she belonged. Feeling suffocated by small town life and parents that didn't seem to care,she convinced her boyfriend, Paul Isler,to drive her to the bus station. At the tender age of 16 years, she left to find her own way in life. She met Nick Haskell at a youth hostel in Tofino, eventually married him and had 2 children. She had forged a career as a successful restauranteur in Los Angeles before getting the news that her mother needed heart surgery. She took the family back to her home in Nova Scotia and, while there, decided to buy the family business, a boatyard.
Tasha Haskell is the oldest daughter of Nick and Katherine. She is 15(?) when the series starts and very upset at the idea of moving from LA to Black Harbour. She has a hard time making friends at school, but is eased into the routine of small town life by Michael Isler, the son of Paul and Vicky.

Anonda Haskell (whose name means "bliss") is somewhat younger, but also has trouble making friends at school. She meets an eccentric woman, Aggie, and they become friends.

---
Aggie MacDuff
Aggie is one of the more original characters to be found on a television show. She believes that she was married to a sea serpent and conceived a child which he took back to the ocean with him. She pines for her lost girl and throws flowers into the tide as offerings in the hope that they could be reunited.
---
Len and Brenda Hubbard
Len is Katherine's brother. He grew up in the shadow of a somewhat dictatorial father and feels like a failure in the family business. He has a history of making bad decisions, both in his personal and his business life. He is running the boatyard into the ground, resisting change in both product line and manufacturing techniques.
Brenda is the traditional supportive wife, involved in social activism, at the outset of the series. However, as we soon discover, she has hopes and dreams of her own.
---
Paul and Vicky Isler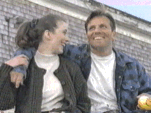 When Katherine left Black Harbour she left behind a boyfriend who loved her, Paul Isler. In the meantime, Paul has married Vicky but he still carries a torch for Kathy Hubbard. He is the chief boatbuilder at the Hubbard family boatyard when Nick and Katherine come back to town.
Vicky had designs on being a singer, but settled for a career in nursing. She is also suffering from a psychiatric disorder which causes erratic behavior.
Vicky and Paul have a son, Michael. Michael spent the first season as a quasi-love interest for Tasha Haskell, but then was shipped off to hockey camp. He wasn't seen much after that.

Black Harbour Home Black Harbour Pictures Video Clips GWD Home
---